This is an idea I've wanted to do for a long time now. The idea of the brave knight on a quest is such a powerful image to me still, even as I grow older and further away from the fairytales of youth. So when the idea of + templates was raised to me, I jumped on the opportunity. Essentially, + templates are extra abilities that build upon what you already have, unlocked when you complete an in-world goal. This will hopefully encourage players to engage with the world more. Maybe. It could also just annoy some of the more power-gamer-y types.
Anyway, without further ado, here it is!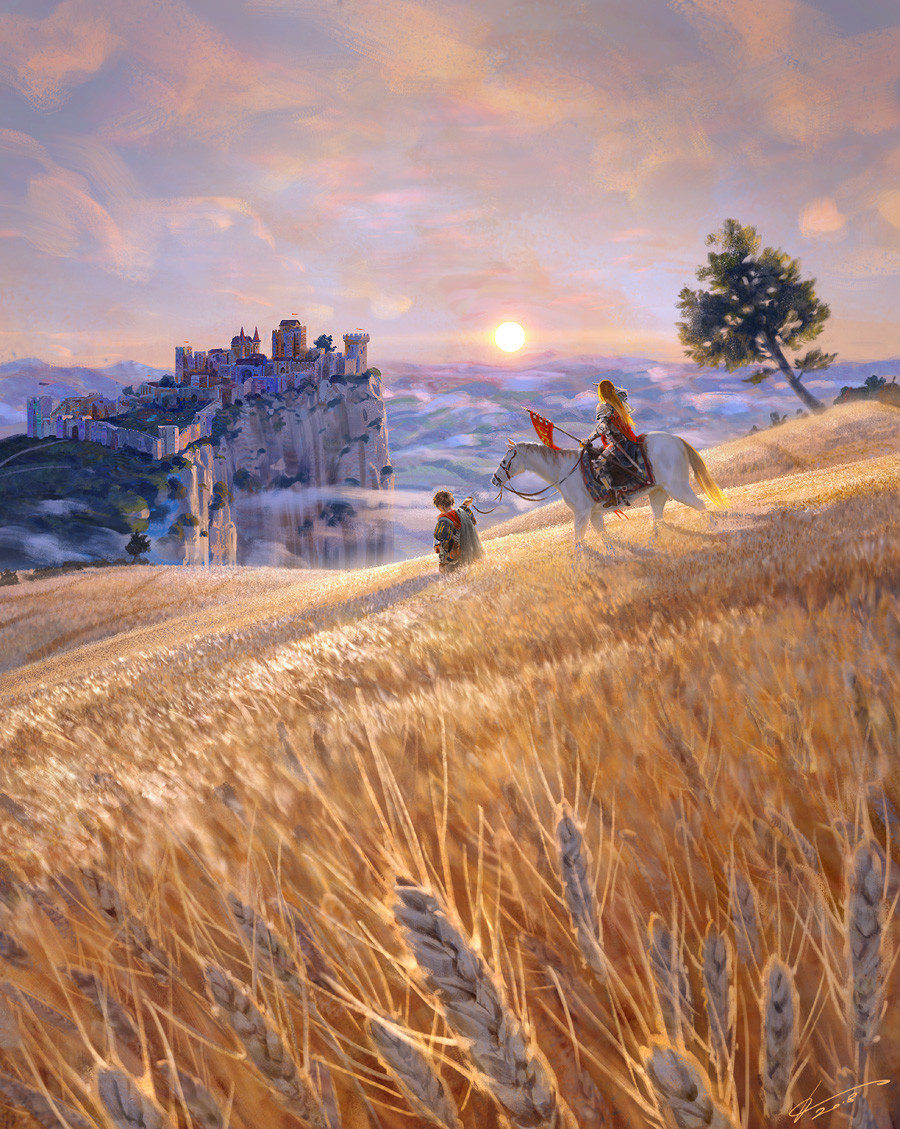 Knight by Johannes Voss

Knight-Errant
Starting Equipment: A Faithful Horse, Heavy Armour, Crested Shield, Sword Given To You By Your Old Master
Skills: 1. Courtship, 2. Chivalry, 3. Dueling
A: Knightly Quest, Crest [+Title]
B: Challenge [+Slayer of Legends], Code of Honour
C: Squire [+Warband]
D: Whosoever Lifts This Sword [+Divine Right of Kings]
A: Knightly Quest
A Knight-Errant is defined by the Quest they embark upon. Every Knight-Errant rolls for a Quest or discusses one with their GM. This is always some deed of immense honour and glory, and completing it successfully will bring much respect to your family and your name. Begin play with a strange magical item that, while slightly obfuscated in its exact use, will help you complete your quest, whether by leading you to the location of what you're looking for or giving obscure riddles as to the true nature of your quest.
You may not ignore your Quest for more than a month at once, or you lose all Knight-Errant Templates. While you are working towards your Quest, there will always be a way to escape any bad situation. Upon completing your Quest, you will receive another one at some point in the next 1d4 years through magical or divine means.
A: Crest
Your shield is marked with the crest of your house or homeland, a reminder of where you set out from, though it is far away now. While wearing a shield with your crest on it, you have advantage on checks against being frightened or mind controlled, and have +1 Defence. You will be given an audience in any court you go to, though they may not necessarily like you.
+Title
Prerequisite: Complete a Knightly Quest
You are far more than merely a normal knight-errant now. Through your deeds, your name has become known throughout the land. Gain a title appropriate to what you have done, or whatever sounds cool (e.g. a Knight who found the Crystal Rose of Telgalan would become known as the Knight of Roses). You are immune to being frightened or mind controlled. Any enemy that knows of your reputation rolls morale checks with disadvantage. You will be given audience by anyone you ask it of, and most will respect your opinion on matters of war and battle. Once per adventure, you may pull off an unreasonably heroic feat and survive the process, no matter how improbable. If you ever sacrifice yourself for a cause you believe in, that cause will gain divine protection.
B: Challenge
You may at any point challenge another creature to a duel. In combat, they must save vs. compulsion or be forced to attack you and only you, though you must do the same. The duel is broken if any other creature intervenes in the fight. Outside, you may challenge anyone that can hear you. They must save vs. compulsion or agree to it. You must then decide amongst yourselves a time and place, and terms as to what happens when either of you win. A sufficiently wealthy person may send a proxy to fight in their place.
+Slayer of Legends
Prerequisite: Kill an opponent of mythical proportions in one-on-one combat.
Any normal creature you challenge to a fight now has a 3 in 6 chance of running away in fear at your reputation. You may now challenge people across any distance, and they will receive news of your challenge within 1d3 weeks. This can include kings, gods, dragons or anything of significant enough power. They will accept your challenge unless they have a significant reason to refuse.
B: Code of Honour
Name three things that you hold as evil and dishonourable (e.g. lying, consorting with demons). You can always tell when someone is engaging in those activities. You deal +1 damage to anyone you view as evil in reference to these three tenets. If you ever break one of your own tenets, you lose any + templates you may have and must go on a quest of atonement to regain your honour.
C: Squire
You have a loyal squire by your side, who will assist you in your Knightly Quest. They are two levels below you, and have templates in a martial class of your choice. You may decide their personality and backstory with your Gamemaster. They seek to learn from your experiences, and will assist you in any way they can. However, they may still leave you if they are mistreated. After six years of training from you or after they gain their last template in a martial class, they gain a level in Knight-Errant and go on their own Knightly Quest.
+Warband
Prerequisite: Gain a Title and be granted land by a lord.
Once per month, you may call together a group of up to [Level x 10] Knights to help you in a single task, such as storming a castle or grounding a dragon. These knights are old friends and acquaintances of yours. They will only stay with you for up to a week, and only for the duration of one specific task, after which they disband.
D: Whosoever Lifts This Sword
Gain a sword of immense magical power, rolling on the table below for its magical properties or deciding an appropriate ability with your GM. Once per adventure, you may miraculously survive a killing blow, instead dropping to 1 HP.
+Divine Right of Kings
Prerequisite: Claim the throne you were fated for.
You are the ruler of a prosperous, powerful kingdom. You may retire your character at any point and your character will go down in history as a good ruler, and the people will forever speak your name in reverence.